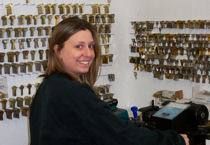 Client Testimonials
Dear Lance,
This is fan mail to thank you for the great work you all did at my home in Edgewater recently. You all went above and beyond in several ways. First thanks for scheduling according to my odd schedule. The truck appeared in my driveway on the dot. Second, I appreciate your steering me to the most cost effective solution for the push button lock arrangement. Third, thanks for offering tackling my broken key in car trunk problem. What a relief not to have to take the car to the dealer, wait a few days, and pay over $200 for a new lock. (You can tell this is not the first time I've broken that trunk key.) Fourth, you all were able to create keys for a no longer in production make of car. We had been told by auto specialists that it would be impossible, so we had worried with only one key. Last, but not least, I was impressed and appreciative of your personal professionalism in putting the customer's needs above your own personal travel schedule. You made a separate trip to my house to bring a special tool, despite a tight schedule to leave town.
So, thanks for putting everything right so economically-and thank you for all the extra service & professionalism.
Sincerely,
Frederick D. Hunt Jr.
Hunt Management Systems
President
---
Dear Mr. Edwards,

Just a heartfelt thank you note for the assistance you gave me when I inadvertently locked myself out of the house last week while minding my infant granddaughter.
The door worked perfectly in the morning when I went out to pick up the Wall Street Journal but slipped into lock position when I closed it later that afternoon to get the mail. It was a worst-case scenario since my granddaughter was asleep inside the house.
I have not ever locked myself out of a house or car and now I can't say that anymore. Your promise to be there within twenty minutes was very much appreciated and you did so in my emergency. The response of your staff was godsend. You can be very proud of the way in which you and yours responded.
You have my heartfelt appreciation and gratitude for your answer to my dilemma.
Sincerely,
Shirley Hughes
Annapolis, MD
---
Lance,
I just want to tell you how much I appreciate your help getting into my car after I locked my keys inside while away from home. My husband was out of town and the only set of keys I had were those locked in the car. And to top it all off, I needed to pick up my daughter from an after school activity.
On the verge of a panic, I called Lance Locksmith. My phone call was quickly answered and help arrived within 15 minutes. Within 20 minutes, my car was open and I was on my way. Your service was incredible.
Sharon Cook
Davidsonville, MD